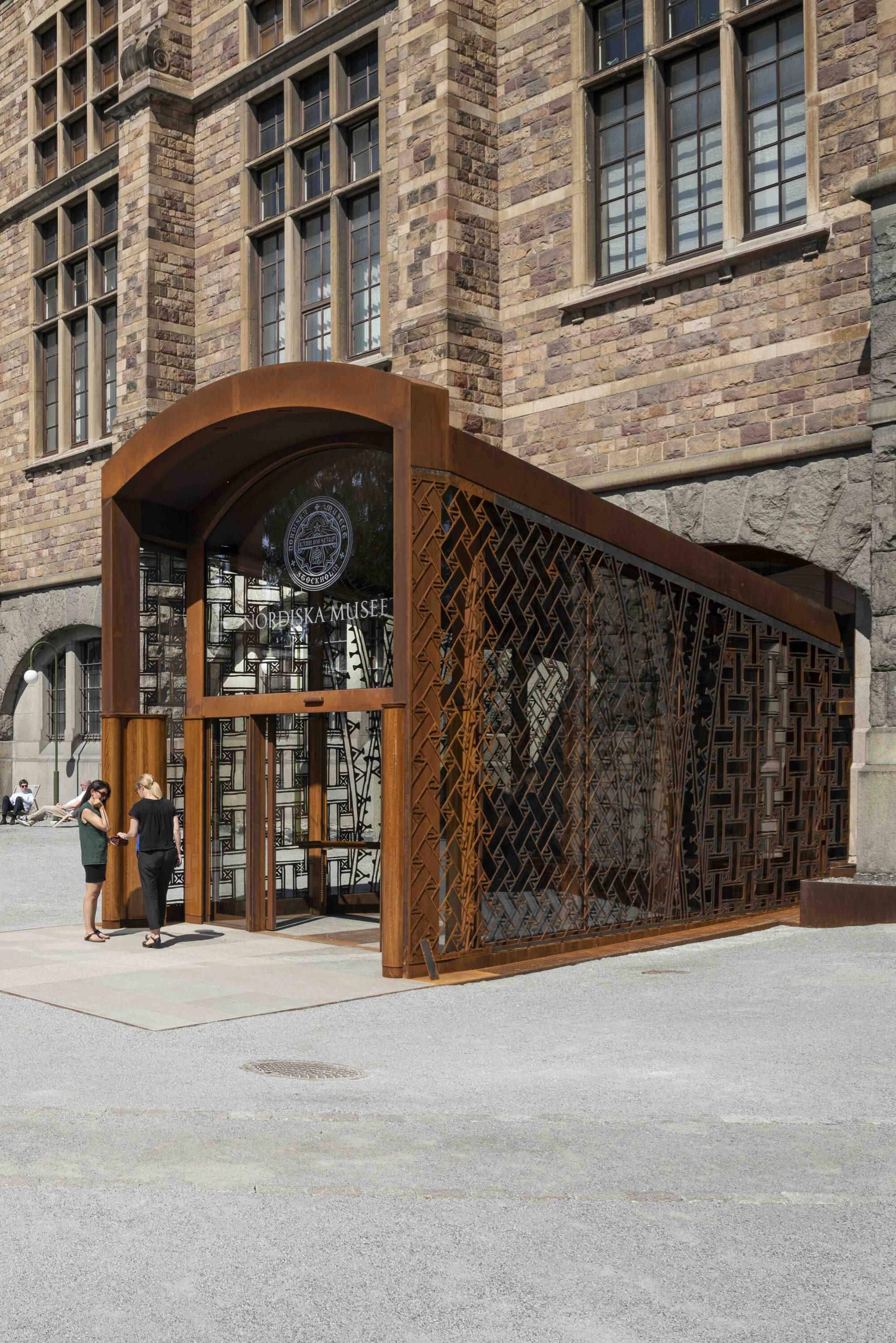 Guektien bïegkese – Guovtte biggii – Two Directions
Nordiska museet new entrance, 2020
commissioned by Nordiska museet and the Public Art Agency
The installation ties into the building and consists of several parts in and around the new entrance. Two of these can be found along the protruding glass section of the entrance building, and on the barriers, made in different patterns in weathering steel.

The visual starting point for the work comes from objects in the Nordiska museet Sámi Collection. The old Sámi decorating tradition is a language. Every single decor element is a word and together they create an ornamental story about Sami philosophy, cosmology and livelihood. Therefore, the Sámi Collection can be seen as a library of Sámi knowledge. The artwork reflects this collection, which includes objects from many different Sámi regions. The ornamentation on the walls is based on the South Sámi braiding, where the diagonal structure expresses flexibility and sociality and the vertical / horizontal structure is a manifestation of firmness and stability.
The place of the artwork in the museum entrance can be seen as a metaphor.
Despite the many positive aspects that National Museums have in general, they also remind us of the colonial history of many nations. Nordiska museet has opened a new entrance to welcome more people to visit the museum. For me it is a sign of repatriation and rematriation, where the artwork is celebrating the ongoing process where belongings and its content are returned from museums back to the Sámi societies. I wish the Sámi people to walk into the museum and feel that this museum is for everybody, that it narrates also our history from our perspective. I hope this artwork can symbolize that process. In the Sámi culture there are three goddess sisters Sáráhkká, Uksáhkká and Juoksáhkká. The new entrance is a place for Uksáhkká who lives next to the doorway and is connected to the idea of transition and new beginnings.
Special thanks to South Sámi duojár craft maker and duodji craft researcher Maja Dunfjeld who has made her Phd research about South Sámi ornamentation.
Statens konstråd
Nordiska museet