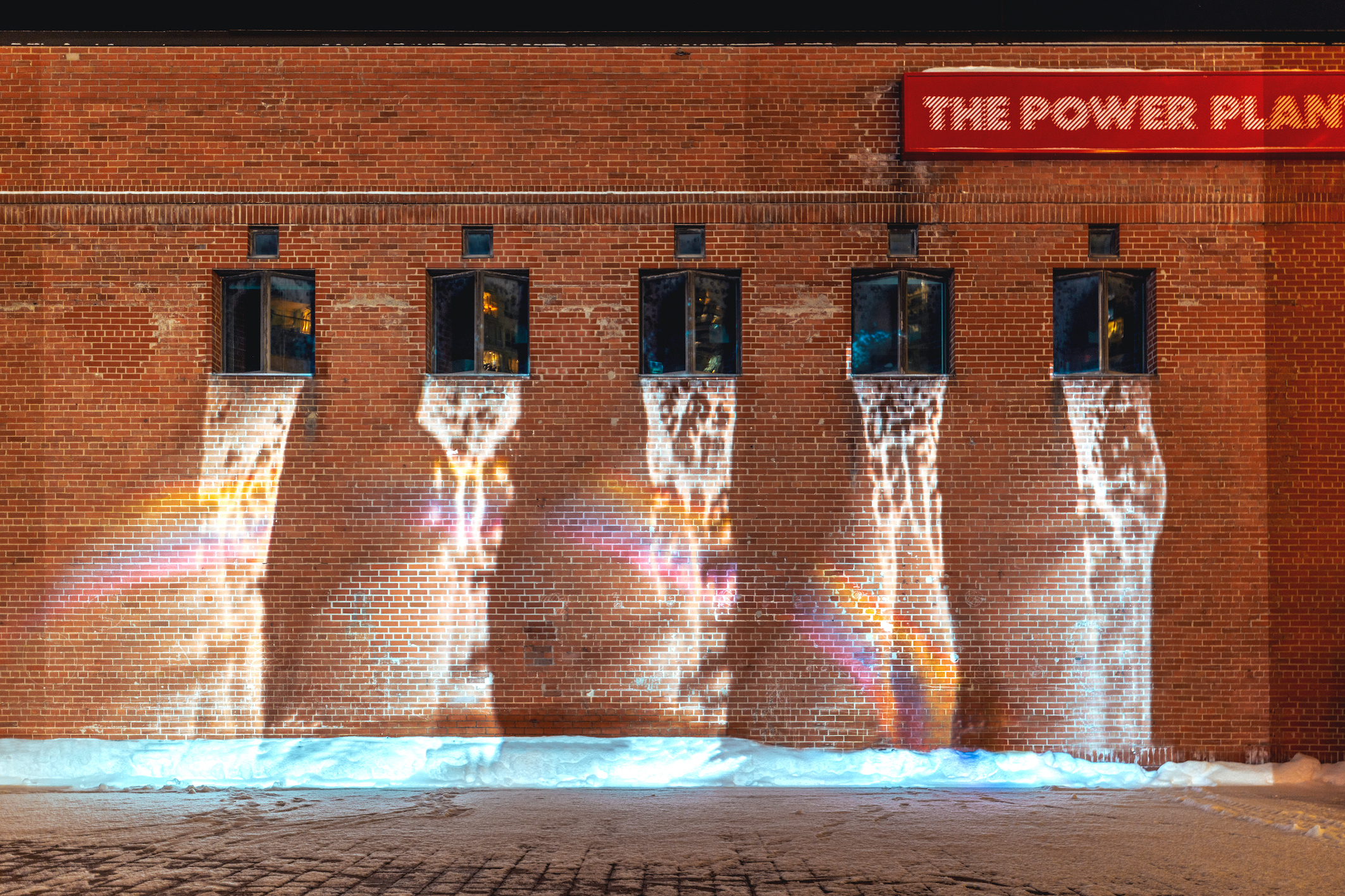 Gorži, The Power Plant Contemporary Art Gallery, Toronto, 2022
Harbourfront Centre- Nordic Lights Festival 2022 
In Gorži, waterfalls cascade from the Power Plant building's windows. The installation by Outi Pieski is inspired by the Sámi spiritual tradition, in which we live in a reciprocal relationship with all living entities. Gorži creates a poetic sight in which clean water flows freely. The voice of Sámi yoik singer Hildá Länsman brings out the feminine power and the spiritual meaning of water. Free water is a symbol of Indigenous resiliency and strength, a counterforce against individualism and competitive capitalistic societies. Issues around environmental protection and the climate crisis are connected to Indigenous people's rights to self-determination. The need for clean water creates overflowing streams that runs into the structures of power. 
Soundscape: Aake Otsala / Sun Effects
Yoik: Hildá Länsman
Video Mapping: Mikko Kunnari / Sun Effects
Gorži, Helsinki Cathedral´s Chapel, Lux Helsinki Light Festival 2017
In Outi Pieski installation, waterfalls cascade out of the windows of the Helsinki Cathedral chapel. Gorži celebrates the start of a centenary year for the Sami people. The Sami National Day on 6 February 2017 marks a hundred years since the first Nordic Sami Congress. The installation is inspired by an old spiritual tradition of the Sami people according to which nature is equal to man. Environmental protection and climate issues are connected to the rights of indigenous peoples; in many ways, the defence of their land and water has come to symbolise the defence of their rights. Gorži creates a poetic sight in which pure water flows freely.